Right now, the DIME Store is run by 3 hardworking ladies, and a co-op of 10 amazing makers. We're going to use this first blog post (first ever! Exciting!) to introduce you to the 3 women who run the store. They make sure the store is styled well, do the social media posts, keep the website up and running, plan all the events, and really just make sure that the store is offering as much as it can to our wonderful community.
Shelley is the store's owner, and she's where the buck stops. She's also the biggest ambassador the store has, because she can't go 10 minutes outside of her house without running into a dear friend. Her heart is so big, she can't help but make friends everywhere she goes.
Shawna is the store manager, and go-to girl for anything that needs organizing. She's also one our brightest rays of sunshine at the store, with her seriously contagious laugh.
Allie is our assistant manager and workshop coordinator. She's amazing at keeping the team on task, and making sure meetings are as productive as possible. She's also one of the most encouraging people you'll ever meet.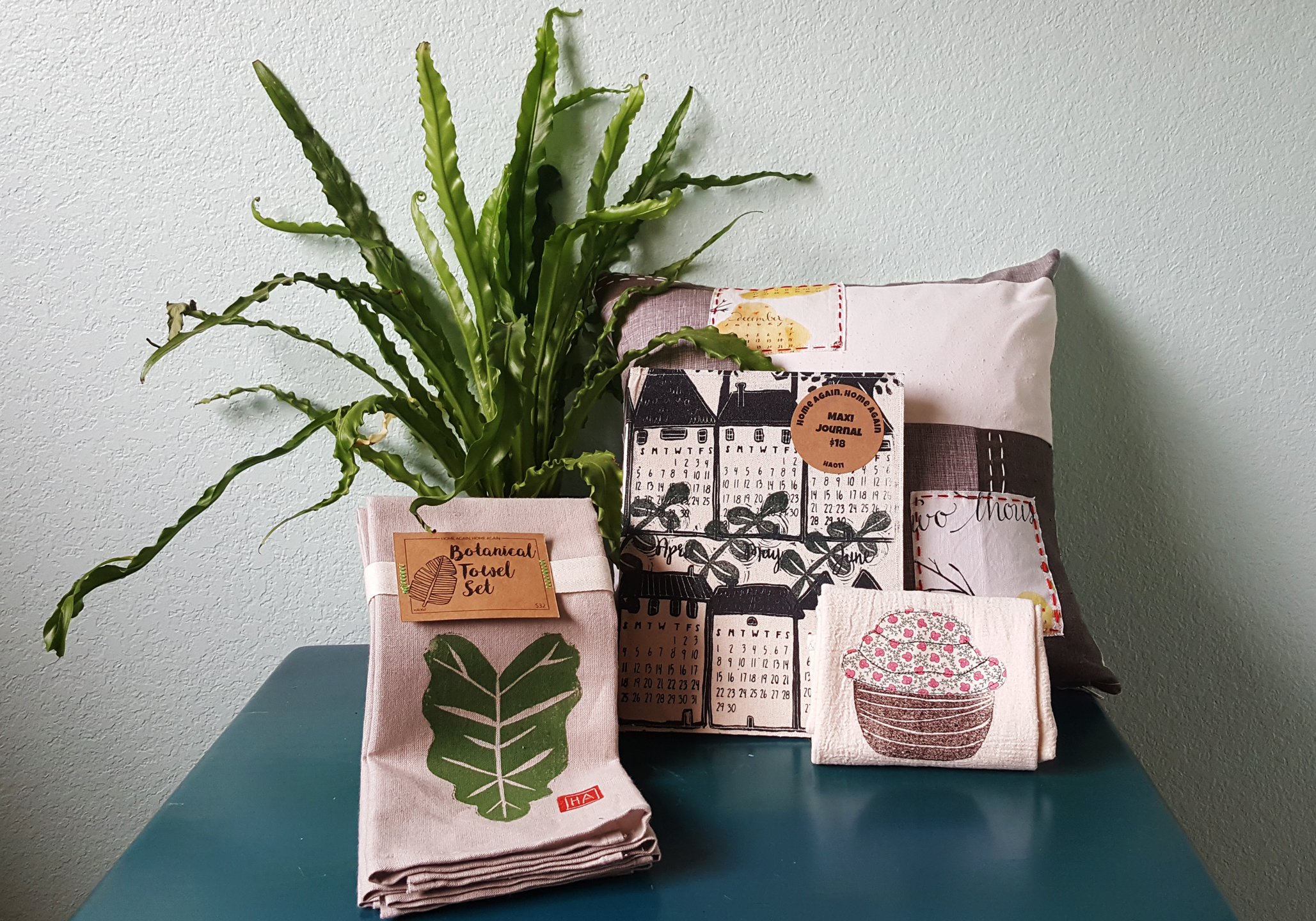 Tell us about what you do.
Shelley: " I make a line of cozy things for home and heart under the brand name Home Again, Home Again—pillows, tea towels, fabric covered journals, and a collaborative line of appliquéd tees and bibs for wee ones. Currently my line is exclusive to The DIME Store, but I hope to branch out to other stores in the next year."
Shawna: "I make mostly greeting cards, but I also design enamel pins, totes, car decals and magnets through my aptly-named business, Shawna Smyth Studio. Super creative, right? I make my products inmy home studio in Denton, TX and currently have products in 4 stores in Austin, Denton, and Savannah, GA."
Allie: "I have a brand of hand stitched paper goods, deskware, and original pieces under my own name, Allie Biddle. I make in my little house studio right here in Denton, Texas and sell in 14 shops across the country (so bananas)!"
What drew you to make your current products?
Shelley: "I have always been inspired by home and things that are cozy. As a kid I was 'designing' by looking through catalogues over and over to create imaginary cozy homes. My childhood experiences are a great inspiration for my work, they are a way to tie me to the people and memories that I hold dear."
Shawna: "I think there's something magical and deeply personal in a handwritten sentiment. My cards are designed to be shared, and I love knowing that I'm helping friends share a laugh, or helping someone brighten a loved one's day. There's nothing better than knowing you're encouraging kindness."
Allie: "My mom and grandmother definitely have indirectly inspired me to make greeting cards. My mom is someone who never gives a gift without a card, while my grandmother loved cards that she was gifted, but would throw them away as she did 'not have the room'. The memories of both of them made me want to make cards that were memorable, thoughtful, and intended to be saved."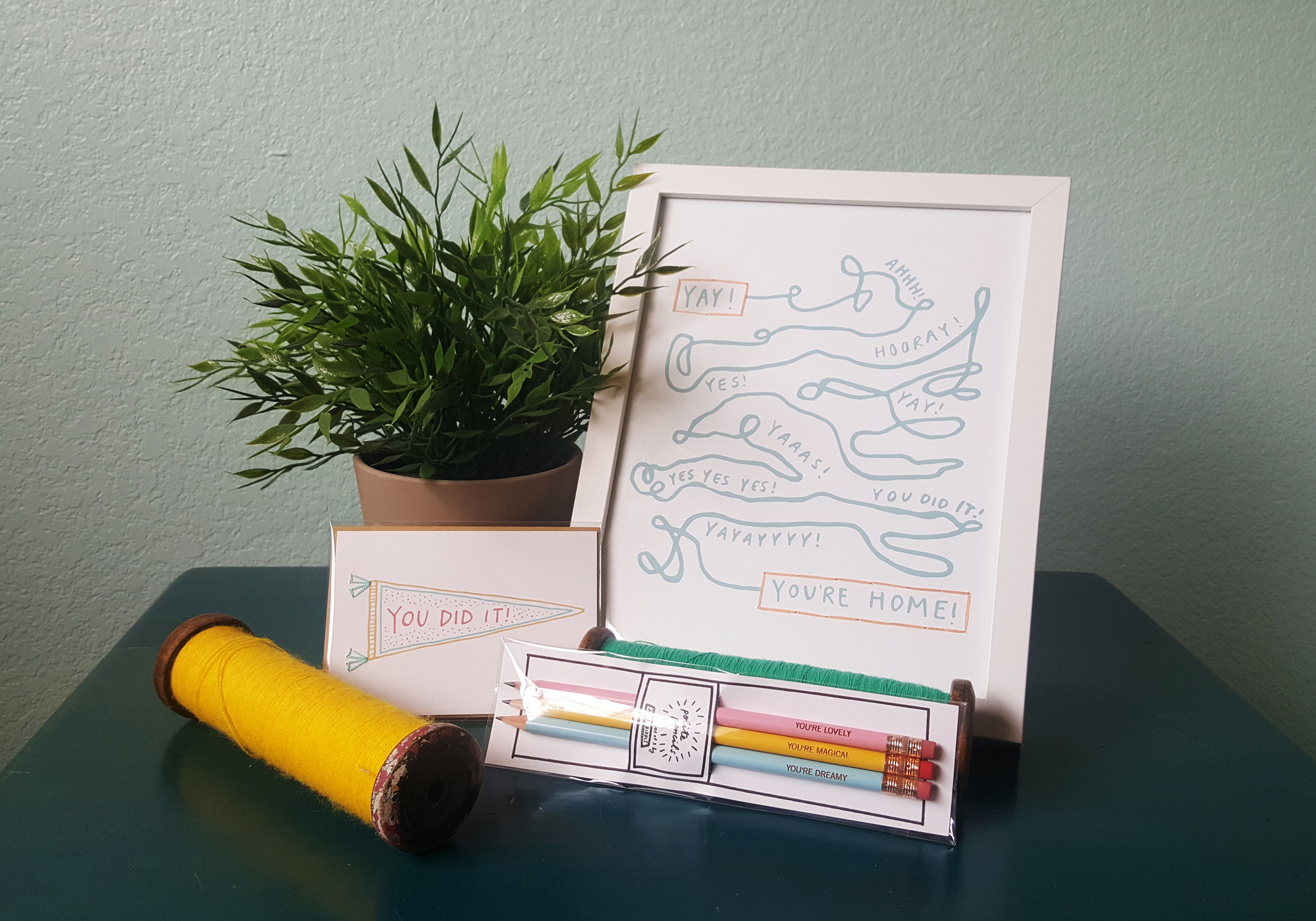 What was one of the biggest difficulties you encountered when starting out?
Shelley: "When I first started out I was doing a lot more furniture design as a collaboration with my multi-talented husband and I loved it, but he was not loving it as much as me, and wanted to do more in his construction business. It was hard to redirect my passion for making cozy things for home, but I decided to brush up on my sewing skills and design soft and cozy things. My inspiration was the same, but my tools were different."
Shawna: "Fear of the unknown, by far. I'm the first person in my family who's started a business from scratch. It's incredibly scary not knowing how to deal with taxes or business licenses, how to market your products, or even what kind of packaging to use. I didn't have a mentor readily available to help me navigate the unknown, until I 'infiltrated' the DIME Store. Haha! I used to hang out at the store for hours, asking questions, and would ask the girls working there if they'd be up for coffee and shop talk. Surrounding myself with these creative business owners really helped put my mind at ease, and gave me the confidence to persist."
Allie: "Honestly, I think it's so hard to not compare yourself to other artists and small batch makers in the beginning! You see what's working for them and then just try to go in that direction because it might be 'successful'. But the truth is, no one can do what YOU can. So, I think exploring my own voice was a really fun and right direction. It led me to make products I really care about and have fun designing."
How do you stay inspired?
Shelley: "Travel is a big inspiration for me, I think it is the slowed pace and the soaking up of the sights and beauty of the places that I have opportunity to travel. I am also inspired by reading and prayer—again the practice of slowing down so that there is head space for inspiration."
Shawna: "So many ways! I think my biggest ideas come from having meet-ups with other creative business owners. Savannah, of Savvie Studio, and I have fairly regular 'Goals Meetings' and I always leave those feeling super inspired and refreshed. When I can't meet up with people in real life, I read blogs (Design Sponge, Paper+Craft Pantry, & Thimblepress are all amazing), or watch interviews/timelapses of artists I love on YouTube."
Allie: "Oh my god, anyone who knows me knows I love a good nap. I get a lot of 'dreamy' ideas! But I also find a lot in journaling daily and in my personal yoga practice. I know something I'm thinking or feeling has got to resonate with someone else, and that connection is a huge inspiration to have everyday!"
What does success look like to you?
Shelley: "It looks like creating something intangible through the tangible. Using the God-given skills, gifts, and passions to create something that will outlive me—a creative legacy of sorts."
Shawna: "Being able to support myself and my family, and being a good role model in general. I feel like I'm well on my way, but there's a lot of hard work to be done. As long as I can be consistent, and stay focused, I'm sure I can get there."
Allie: "Being able to write a consistent paycheck to myself was super exciting but took what felt like forevvvvvver! It's a beautiful thing to do what you love and make a living doing it."
What advice would you give to emerging creative entrepreneurs?
Shelley: "Do all that you can to stay fresh to your craft and your business, be wary in comparison. Be uniquely you—perfectly imperfect!"
Shawna: "Introduce yourself to fellow creative entrepreneurs! Introducing myself to Shelley, and to Savannah (in particular) were seriously a couple of the most cringe-worthy experiences of my life, but they've changed my life for the better. I was super awkward, and went over the conversations in my head over and over for days after (saying, omg why did I say it like THAT? I must have sounded so dumb!) but if I had never introduced myself... I'm not sure that my business would still exist today. The encouragement, and advice I've gotten along the way has proven invaluable."
Allie: "Explore your own voice! You'll learn to make work that you're proud of and that resonates with how you see the world. Once you start finding that, your audience will come to you. After all, at the end of the day, you're probably the only one putting in the hours making, designing, marketing, and selling. Might as well be for something that YOU like!"
If you have suggestions for blog posts you'd like to see in the future, leave them in a comment below!